Westside casting line-up revealed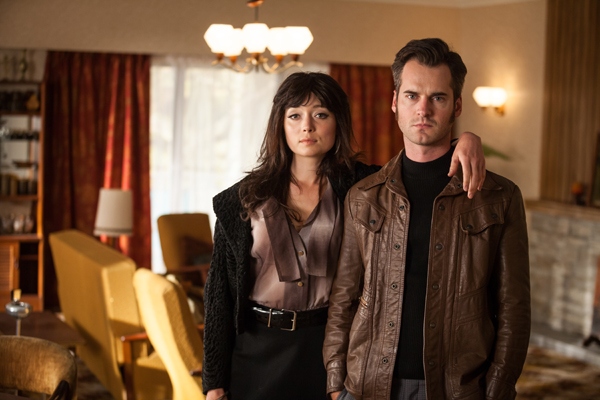 Antonia Prebble (Outrageous Fortune, White Lies, The Blue Rose) and David de Lautour (The Kick, NCIS, Once Upon a Time) headline the cast of South Pacific Pictures' new comedy drama series WESTSIDE, the six-part Outrageous Fortune prequel which is coming next year to TV3.
Prebble stars as Rita, the West family matriarch – a role she played briefly in flashback scenes during Outrageous Fortune season four. De Lautour plays the role of Ted West, the 30-something incarnation of the beloved 'Grandpa' character who was deftly portrayed in all six seasons of Outrageous Fortune by the late Frank Whitten.
"Antonia was attached to this project from the beginning," explains series co-creator James Griffin. "The Wests always spoke of how much Loretta was the spitting image of her grandmother, Rita, and we played with that very briefly during Outrageous Fortune but with WESTSIDE we head back to the 1970s and we will discover much more about Ted and Rita West…and everything else there is to know about the roots of the West family tree."
When it came to casting the actor to play Ted, Griffin explains that they were looking for someone who captured the real heart and soul of the character. "What we realised during the casting process is that we couldn't just expect to find a younger version of Frank [Whitten]. What we needed to find is the actor who embodies the essence of Ted West and who would believably go on to become 'Grandpa' in the future. David brings that special something to the role."
A skilled group of local actors rounds out the core cast as Ted and Rita's friends, associates and nemeses:
• Dan Musgrove (Underbelly: Land of the Long Green Cloud, 3 Mile Limit, Go Girls) as Lefty Munroe
• Esther Stephens (When We Go to War, Go Girls, The Doctor Blake Mysteries) as Ngaire Munroe
• Will Hall (Nothing Trivial, Siege, Auckland Daze) as Detective Mike McCarthy
• Todd Emerson (Agent Anna, Spies & Lies, Amazing Extraordinary Friends) as Bjelke "Bilkey" Van Heeder
• Pana Hema-Taylor (The Brokenwood Mysteries, The Dead Lands, Spartacus: War of the Damned & Blood & Sand) as Bert Thompson
• Xavier Horan (The Dead Lands, The Dark Horse, The Kick) as Phineas O'Driscoll
• Sophie Hambleton (Consent: The Louise Nicholas Story, White Lies, Everything We Loved) as Carol O'Driscoll
WESTSIDE commenced shooting on Sunday and will screen on TV3 in 2015. The series is co-created by Rachel Lang (Outrageous Fortune, Go Girls, Nothing Trivial) and James Griffin (Outrageous Fortune, The Almighty Johnsons, Sione's Wedding), produced by John Laing (Outrageous Fortune, Mercy Peak, Venus and Mars) and the series' lead director is Mark Beesley (who has also worked as the lead director in establishing the first seasons of Outrageous Fortune, The Blue Rose and The Almighty Johnsons). The production was funded by New Zealand on Air.
ABOUT THE SERIES
WESTSIDE is a 6 x 1hour comedy drama series produced by South Pacific Pictures for TV3 in New Zealand. The show is a prequel to the acclaimed New Zealand series Outrageous Fortune and is set in 1970s Auckland against a backdrop of real-life historical events. WESTSIDE tells the story of legendary safe cracker and career criminal Ted West, his wife Rita, their son Wolfgang and their friends, associates and nemeses