Wednesday's Outrageous Fortune talk at the Auckland Museum: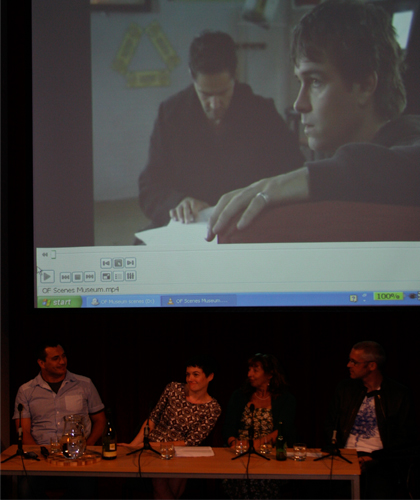 Wednesday night's conversation with cast and crew from Outrageous Fortune provided some intriguing insights into the series and how great television is made. Writer Rachel Lang described the relationship between Van (Ant Starr) and Munter (Tammy Davis) as the "greatest love story" of the show. Character development was also discussed with Tammy describing an early conversation with a director who provided a character sketch of Munter: "his name is Munter and he is always munted".
Director Simon Bennett said the cast and crew of Outrageous Fortune were able to create great television because of the high level of trust on set. After the talk some of the fans in the audience managed to grab a few photos and signatures.
Next week's line-up of actor Robyn Malcolm, director Britta Johnstone and editor Nic Smith will discuss the best and strangest moments behind the scenes on Outrageous Fortune.