Outrageous Fortune stars in 'TOYS'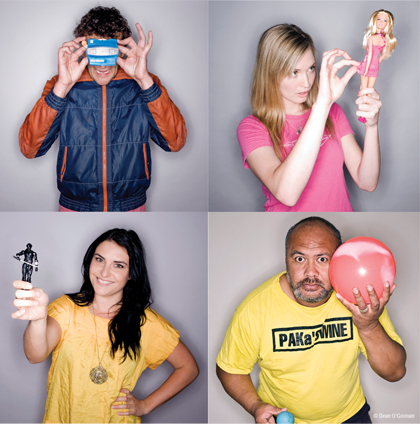 Robyn Malcolm (Cheryl), Siobhan Marshall (Pascalle), Dave Fane (Falani) and Barnie Duncan (Dane) are just some of the actors taking part in the Royale Productions play TOYS.
Written by Natalie Medlock and Dan Musgrove comes another serving of yuletide mischief.
Join the revolving cast of 40 actors from stage and screen as they ask the tough questions: will Ball survive being thrown at the ranchslider again? Is Viewmaster and his obsession with Kevin Bacon really to be trusted? Will Barbie have to go and live at the dump?
TOYS. It's not for children.
TOYS plays at The Basement Theatre from Dec 2nd – 18th. No shows Mondays. Bookings: iticket.co.nz. Adults $35 / Seniors & Students $30 / Actors' Equity $25 / Group bookings 6+ $30 each
STARRING! Andi Crown, Angela Bloomfield, Ari Boyland, Barnaby Frederic, Barnie Duncan, Ben Wall, Beth Allen, Brett O'Gorman, Bronwyn Bradley, Bruce Phillips, Byron Coll, Charlie McDermott, Chelsie Preston-Crayford, Dan Musgrove, Dave Fane, Gareth Reeves, Gareth Williams, Hannah Banks, Harry McNaughton, Ian Hughes, Jacque Drew, Jarod Rawiri, Jeff Szusterman, Jennifer Ward-Lealand, Jessica Wood, Jordan Blaikie, Madeleine Sami, Michele Hine, Millen Baird, Morgana O'Reilly, Natalie Medlock, Nic Sampson, Oliver Driver, Renee Lyons, Robyn Malcolm, Ryan Richards, Sam Snedden, Siobhan Marshall and Yvette Parsons.
Directed by Cameron Rhodes and Toby Leach
Design by Simon Coleman