Sophie Henderson (Bailey) in Dog Sees God @ Basement Theatre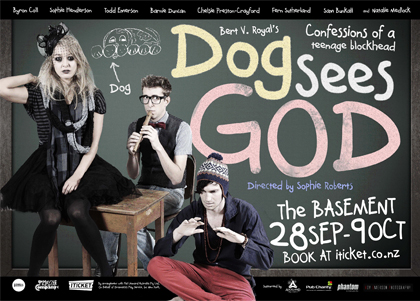 Catch Sophie Henderson (Bailey) in DOG SEES GOD at the Basement Theatre September 28 – October 9.
DOG SEES GOD – It's really f**ked up, Charlie Brown!
Didn't fit in growing up? Well, neither do they…
CB's dog is dead, his sister has gone goth, his best friend is too burnt out to provide any coherent speculation and his ex-girlfriend has recently been institutionalised. But a chance meeting with an artistic kid sets in motion a friendship that will push teen angst to the very limits.
Based on Charles M. Schulz's iconic Peanuts comic strip, this is a black comedy about drug use…, suicide, eating disorders, rebellion, sexual identity and the hope that, one day, we might grow up…
Featuring:
Byron Coll (Heat)
Sophie Henderson (The Scene, The Little Dog Laughed, Outrageous Fortune)
Todd Emerson (The History Boys, Songs for Guy)
Barnie Duncan (Outrageous Fortune)
Chelsie Preston-Crayford (The Cult, That Face)
Morgana O'Reilly (Bare, When the Rain Stops Falling)
Sam Bunkall (Romeo and Juliet)
and Natalie Medlock (Assassins)
Directed by Sophie Roberts (Broken China, Wolf's Lair)
8pm
Tickets – $20 / $16 / Groups 6+ $15
Tuesday 28th Preview – all tickets $15
Book at iTicket – www.iticket.co.nz / 361 1000