Kirk Torrance's Flintlock Musket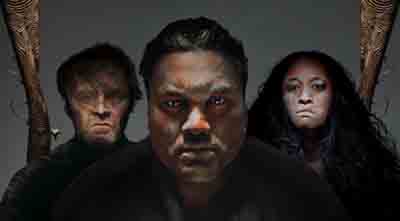 \
Kirk Torrance's (Outrageous Fortune) powerful new play is brought to the stage by theatre director Rachel House and some of Aotearoa's leading performers.
This is Aotearoa, early 1800s, on a brutal and barren wasteland a few heartbeats before the plague of the Musket Wars. Set designer John Verryt, lighting designer Jeremy Fern and composers Tama Waipara and Sean Lynch have collectively crafted an atmosphere worthy of this foreboding story.
The landscape has a hostile beauty where the people, like primal spirits, bend to its whim. Their chief, Aoraki (Maaka Pohatu), dominates their lives like the ever demanding earth. An outsider has arrived – a Scotsman (Jason Whyte) – taken in as 'moki', Aoraki's pet. Escaping his own world in search of a new one, his alliance with the chief's slave, Hine (Nancy Brunning), is about to change the tribe's destiny with devastating consequences.
This epic story and its haunting imagery merge our cultures and history into a stunning fusion of theatre and movement to create a uniquely New Zealand theatrical event that guarantees to etch a lasting impact on audiences.
Ensemble
Tamihana Paurini
Regan Taylor
Maria Walker
Nancy Wijohn
Director
Rachel House
Writer
Kirk Torrance
Lighting Design
Jeremy Fern
Set Design
John Verryt
Composers/Musicians
Tama Waipara and Sean Lynch
Movement Director
Jack Gray
Costume Design
Rona Osborne, Native Agent
Photography
Darryl Ward, Curious Film
Tues 17 – Sat 28 November
Tues – Wed 7pm, Thurs – Sat 8pm, Sun 6pm
Lower NZI, Level 1, Aotea Centre, THE EDGE
Adult $32* Student/Concession $25* Groups 8 or more $25*
*Service fees apply. Concession (Student, seniors, Silo card holders, Actors Equity, DANZ card holders)
BOOK NOW 0800 BUYTICKETS or www.buytickets.co.nz